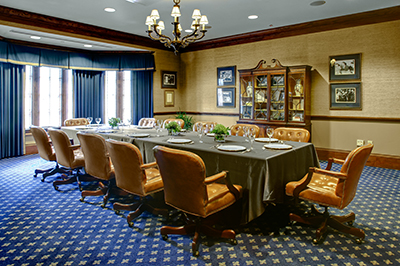 Event Reservation
The Miller-Ward Alumni House is the ideal location for your meeting, wedding, or special event. Emory departments, as well as our friends in the greater Emory community, are welcome to reserve a space by completing the 'request a reservation' form.
Quick Links
More information regarding Miller-Ward policies, partners, and rates can be found using the resources listed on this page.
It's our birthday—and you're invited.
Over the past two decades, Miller-Ward Alumni House has been Emory's home for alumni engagement. In Dooley's Den, Corpus Cordis Aureum has inducted its newest members into the honor society for alumni who graduated a half century ago. The Caucus of Emory Black Alumni has met in the Prentice Miller room to unite, educate, and celebrate diversity at Emory. So many alumni couples have had their first dance in Governors' Hall. Future alumni often settle in for a quiet place to study. Meanwhile, behind the double doors, our staff works to enhance your alumni experience.
We wouldn't be here without you. Please join us to celebrate!